Switching a foreign driver's license to a Japanese license
To apply, applicants must:
be a registered resident of Nagano Prefecture
have a valid driver's license
be able to prove that he/she has stayed in the issuing country for at least 3 months from the date of issue
Locations of reception:
※ The Toshin Driver's License Center does not offer this service.
Required documents for all applicants:
A valid foreign driver's license
A Japanese translation of your foreign driver's license
 (This translation must be issued by the Embassy or Consulate representing the country where your license was issued or by Japan Automobile Federation/JAF)
An international driver's license (only if you have one)
A Certificate of Residence with your permanent domicile indicated
OR
a Certificate of Residence indicating your nationality if you are a foreign national
(Photocopies will not be accepted in place of these certificates.)
A valid passport (You may also need previous passports to confirm the date of issue of your driver's license)
An application photo (3x2.4cm, taken within the past 6 months)
Your photo should be taken from the front (from your chest up) with no background. No hats, with the exception of head coverings worn for religious or medical reasons. Please prepare a photo that clearly shows both of your eyes, eyebrows, and your face. Photos that do not meet these criteria will not be accepted.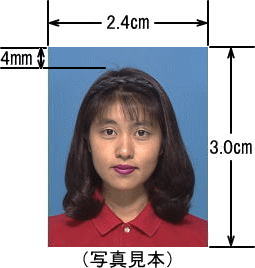 Besides the above-listed documents, you may need to submit additional documents.
We strongly suggest you let us examine your documents prior to application.
You may also need the following:
A valid Japanese driver's license, or an expired one
A provisional driver's license
An identity document (an ID card)
An official receipt from when your foreign driver's license was issued
A driving record
A certificate of acquisition (Certificate of Driver's License)
Fees
Standard vehicle license: 2,550 yen
Moped or small special vehicle license: 1,500 yen
Motorcycle license: 2,600 yen
Heavy, medium, or semi-medium vehicle license: 4,100 yen
★Issuing fee: 2,050 yen★
Procedure flow
*1 The traffic regulation knowledge test is offered in 9 different languages. You can choose from English, Chinese, Portuguese, Persian, Spanish, Thai, Tagalog, and Vietnamese.
*2 The driving skill test is to confirm that you understand the basic Japanese traffic regulations and can drive safely in the course. (You must make a reservation to take this test again.)
For more information, please contact:
Examination Section (8:30-17:00, Monday through Friday except holidays)