Main content starts here.
A Gift for You, from Saku and Karuizawa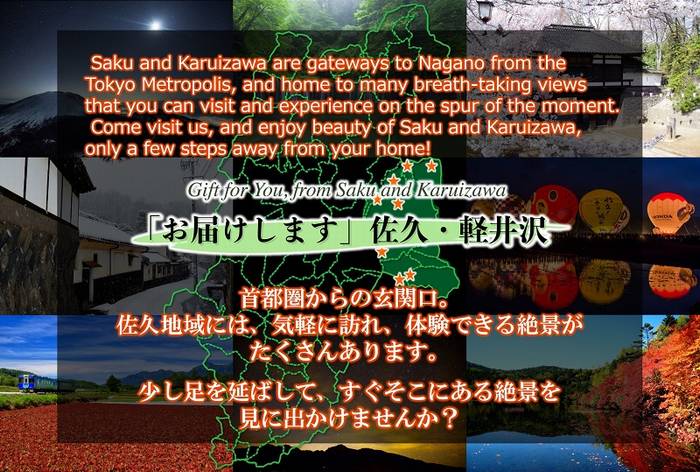 Discover the Beauty of the Saku Region!
The Saku region is a gateway to Nagano from the Tokyo Metropolitan area, and home to many breath-taking views that you can visit and experience on the spur of the moment.
Karuizawa is located in the Saku region, and is a "Beautiful Village," famous for many tourist sites, shopping, and summer homes.
Even if you are a frequent visitor in Karuizawa, there is more to discover. Why don't you go a little further, and enjoy splendid scenery only a few steps away?
Postcards with Magnificent Views in the Saku Region
Saku Regional Development Bureau created postcards for tourists in Karuizawa so that they will discover more about the Saku Region. There are 10 postcards, and they will be available free of charge at facilities in Karuizawa Town.
Distribution Method
Please see the table below for details of postcards.
Distribution Period

Distributed to each location from March 2020.

※Please note that distribution ends when postcards run out.

Distribution Locations

Postcards are available free of charge at the following places:
Postcard Images
※Click an image to view details of the photo.