Main content starts here.
Ancient Times
Ancient Times "Shinano became a province"
About 1,300 years ago, government came to be practiced in Japan according to a system of laws introduced from China. The country was made up of over 60 provinces centered on the capital of Nara, and Shinano was one of the provinces. It was divided into ten districts and each district was administered by a district governor chosen from among the local powerful clans under a provincial governor dispatched by the government. Wooden tablets on which the orders of the provincial or district governor were written have been found among relics discovered at the Yashiro historical site in Koshoku City.

People paid taxes to the province or district in the form of rice, and special products were collected by the district on the orders of the provincial or district governor. Linen was one of the special products of Shinano province, and even today Shinano linen and hakama (men's divided skirt) made from Shinano linen can be seen at the Shosoin, north of Todaiji Temple in Nara. Shinano was also one of the few horse-breeding centers and many fine horses were raised on pastures scattered all over the province. Selected horses were led to the capital along the Tosando Road which linked Shinano and the eastern provinces with the capital. Wooden tablets have been discovered showing that Shinano horses were kept at the residences of high-ranking nobles.

Wooden tablet No.114 on which was written the orders of the district governor (Replica)
About 1,200 years ago, the capital was moved to present-day Kyoto. During this period, known as the Heian period, in addition to the provincial governors and other powerful clans, farmers who had accumulated much wealth began to gain power in the various regions of Shinano. They consolidated their villages, administered the Shinano domains of the nobility and major shrines and temples in the capital and became involved in the collection of taxes. Magnificent examples of the pottery and mirrors of the period have been discovered in the tombs of such powerful men at the historical site on the west bank of the Yoshida River in Shiojiri city. These men eventually became feudal lords and samurai possessing horses and weapons.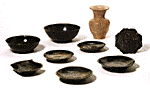 Pottery with gray and green glaze and octagonal mirrors
(Important cultural properties found at historical site on west bank of Yoshida River, Shiojiri City; now stored in Nagano History Museum)