Main content starts here.
Updated:August 30, 2013
Fitting chains
1 Example
With knowing the road would be covered with snow, you set off without putting chains on the tires. Because of the absence of the chains, the car becomes stuck. When you try to put chains on the tires, an oncoming car slips and you get caught between the oncoming car and your car.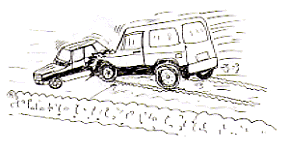 2 What did you do wrong?
You did not choose a safe place to put chains on the tires.
You did not think that such an accident could occur on snowy or frozen roads.
No one was watching oncoming cars.
You did not use any safety warning equipment(smoke candles, Delta-Sigh,etc).
3 How to avoid accidents
Put chains on the tires as soon as you see snow.
Fit chains on the tires in a safe place,not on the road.
If you have any passengers with you, ask them to watch oncoming cars.
Listen to traffic information on the car radio.
*The number of this kind of accidents is increasing year by year. Please put chains on tires in a safe place.